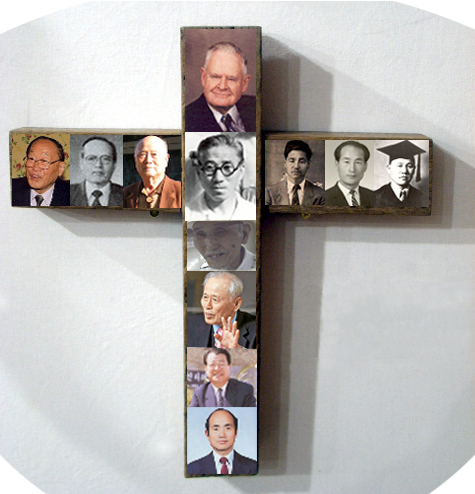 자기 십자가지기(고전 1:18)
우리는 누군가가 진 십자가에 기대어있다. 제 힘이나 능력으로 선 것이 아니다. 그 누군가가 예수님일수도 있고, 부모일 수도 있고, 친인척이나 선배일 수도 있고, 목사나 교우일수도 있고, 이름도 성도 모르는 무명인일수도 있다. 그렇게 우리는 누군가가 짊어진 십자가에 기대어 살아간다. 그래서 우리는 결코 혼자가 아닌 것이다. 작고 초라한 한국 그리스도의 교회도 마찬가지이다. 오늘이 있기까지 수많은 선배들의 십자가와 눈물과 땀과 배고픔과 고달픔과 외로움이 켜켜이 쌓이고 섞이고 다져져 딛고 설만큼 단단한 돌이 되었다.
1999년 3월에 그리스도의 교회 사이버 연구소가 인터넷에 개설되었는데, 한국 그리스도의 교회에 대해서 문외한에 가깝던 개설자는 이후 16년째 선배 목회자들의 헌신적인 삶에 웃기도 하고 울기도 하였고, 때로는 탄식과 아쉬움과 안타까움을 금하지 못하였다. 또 밤낮없이 자료를 찾고 만들어 소개하는 일에 매진하면서 병도 나고 탈진상태에 빠져 결국 직장도 그만두게 되었다. 그 같은 노력과 헌신과 눈물이 계속해서 이어진다면, 우리가 희망하는 '큰 바위의 얼굴' 같은 그 누군가가 반드시 나오게 될 것이다. 주님의 십자가에 기댄 우리가 주의 만찬을 통해서 상기해야할 점은 주님이 지신 십자가뿐만 아니라, 우리 자신의 '십자가지기'도 하나님의 능력과 지혜가 된다는 점이다. "십자가의 도가 멸망하는 자들에게는 미련한 것이요, 구원을 받는 우리에게는 하나님의 능력이다."
We lean on the cross that Jesus took up. Likewise, we lean on the cross which someone took up. That someone may be our parents or relatives, may be our ministers or church members or may be our predecessors or the unknown. It's not by our own ability or talent that we stay on. Therefore we are not all alone. It's the very same with the small and humble Korean Christian Churches. What we have been up to these days is because there have been numbers of predecessors who completed the task the Lord Jesus had given them with their work of faith and labor of love and steadfastness of hope. The difficulties such as perspiration, teardrop, hunger and loneliness that our predecessors suffered from hardened after each layer and made layers until they became the stone of hope on which we could stand.
I opened Christian Church Cyber Studies in March 1999. I didn't know much about the history of the Korean Christian Churches and Churches of Christ at that time. But now after the study for 16 consecutive years on that particular subject I became the man who knows better than others. I could not but help often beaming with a smile or shedding tears over the sacrificial lives of our predecessors or sometimes grieving or feeling sorry over the misfortunes of the Korean Christian Churches. I endeavored to search out the resources and materials of the Korean Christian Churches and Churches of Christ and edited them to publish at our Christian Church Cyber Studies. And my health often worsened due to extreme fatigue and exhaustion. But I believe that in doing so; someday we will see a man like a Korean Alexander Campbell that our Lord God will raise up for us. He may appear after the manner of the story of "The Great Stone Face" by Nathaniel Hawthorne. As we lean on the cross that Jesus took up, what we must remember as we partake in the Lord's Supper is that our cross-bearing as well as the cross that our Lord took up becomes God's power and wisdom that save men. "For the message of the cross is foolishness to those who are perishing, but to us who are being saved it is the power of God" (1Cor. 1:18).